Sunglasses / Riding Glasses

We've Moved! Click HERE to go to our new website!
Don't Forget to Bookmark our new Site!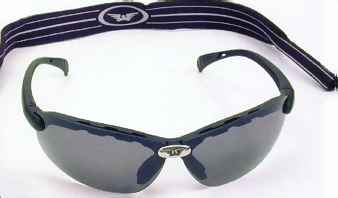 INTERCHANGEABLE Glasses with 5 sets of Lenses!, #S200-"C-2000 Touring Kit". All 5 sets of lenses are polycarbonate, shatter resistant, UV 400! These glasses have rubber nose and ear pads for comfort. This kit also includes a neoprene cord and a zipper sport bag with pockets to store your lenses and belt loops! Suggested retail of $29.95, but our price is $22.99 -Lenses included are:

SMOKED: Distinctive grey tint decreases sunlight without distorting colors.

CLEAR: Untinted for low-light or nighttime eye protection.

CLEAR-MIRRORED: A clear lens with a flash mirror coating that provides a one-way mirror for "private eyes". Popular for day and night time use.

DRIVING MIRRORED: State-of-the-art lens for day-time use. Copper color tint and flash mirror coating is soothing to the eyes.

YELLOW TINT: Ideal for overcast days to increase depth perception- used day or night.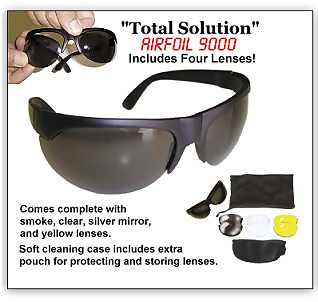 INTERCHANGEABLE Glasses with 4 sets of Lenses!, #S301-"Airfoils" Made by Pacific Coast Sunglasses. Lenses are shatter resistant polycarbonate with 100%UV (UV400)protection. Lenses are super strong, exceeding ANSI Z87.1 industrial standards for impact resistance and meeting ANSI Z80.3 general purpose UV requirements. Matte black frame- Comes with Smoke, Clear, Silver Mirror, and Yellow Lenses! Comes with a soft cleaning case and extra pouches for storing the lenses. Introductory Special of $19.99-(Suggested Retail is $29.95)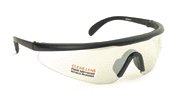 "Stealth" #S204 Sunglasses- Sleak frame, comfortable rubber ear pads, foam padded frame for comfort on your face! Lenses are shatter resistant, polycarbonate with UV400 protection.Available in SMOKED and now CLEAR/FLASH MIRRORED lenses! Clear/Flash mirrored= a clear lens with a flash mirror coating that provides a one-way mirror for "private eyes", can be used both day and night! View Example of Clear/Mirrored Lenses $12.99



"Rawhide" #S201 Leather-Like Sunglasses- Leather Look and Feel (not actual real leather)! Simulated stitched border and soft-touch frame! Sleak frame, comfortable rubber tips. Lenses are shatter resistant, 2mm ballistic polycarbonate with UV400 protection. $10.99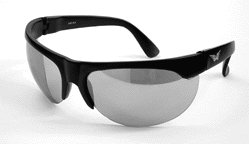 "Fly Touring Kit" #S202 INTERCHANGEABLE RIDING GLASSES- Lenses are shatter resistant, polycarbonate with UV400 protection. Glasses have SMOKED lenses and come with an EXTRA set of CLEAR lenses to interchange and ride both day and night! Also comes with a micro-fiber pouch with two inner pockets for spare lenses. Picture of Case$15.99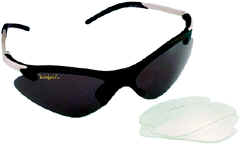 INTERCHANGEABLE Glasses, #S300-"Airfoils" Made by Pacific Coast Sunglasses, Black frames with silver temples. Lenses are shatter resistant polycarbonate with 100%UV (UV400)protection. Lenses are super strong, exceeding ANSI Z87.1 industrial standards for impact resistance and meeting ANSI Z80.3 general purpose UV requirements. Has a flexible nosepiece for comfort. These are designed to give you the best protection against sun, wind, and glare. These also come with an extra set of Clear lenses so you can ride day or night. Comes with a nylon pouch with belt clip. They retail for $24.95! Picture #2,

$19.99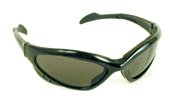 "Neptune" Motorcycle Sunglasses, #S101-Aerodynamic, sleak, sunglasses. Black frames, lenses that are shatter resistant polycarbonate, rated UV400. Has comfortable foam padding on the inside of the glasses to fit snug to your face and protect against wind and dust. Also has comfortable rubber ear pads! Available in SMOKED and now CLEAR/FLASH MIRRORED lenses! Clear/Flash mirrored= a clear lens with a flash mirror coating that provides a one-way mirror for "private eyes", can be used both day and night! View Example of Clear/Mirrored Lenses $13.99
Motorcycle Sunglasses, #S400-Very nice wraparound-type sunglasses. Black frames, lenses are shatter resistant polycarbonate with 100%UV (UV400) protection. Shaped to "wrap around" your face and protect your eyes from the road elements. Also comes with a nylon drawstring carry pouch. Picture 2,